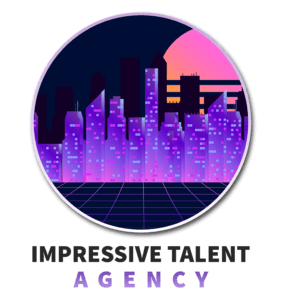 Everyone wants to be an actor.  Many say they are actors and have a well organized resume and documentation to back them  up.  Others say they are an actor and you can see by going to their YouTube channel, TikTok account or podcast.  That's the issue, everyone has their own idea of what a professional talent is in the industry.
Casting Agency
At Impressive Talent Casting Agency, we personally vet each actor, model and voice over talent to make sure they are true to their craft.  We insist on professional head shots, competitive voice over demos and a list of who each talent has coached with, among other things.  We also make sure each talent, no matter what genre, has a flexible schedule to accommodate the crazy hours that talent are requested to work.
Some agency sites are only advertising to add on new talent. Other agency sites have nothing visible to prove they are a success.  You should not have to log on or create an account to view talent at agencies.  A great agent has the talent visible as soon as you go to their site to view photos, watch demos and listen to audio files.  I
Cost for Representation?
Does the agent charge talent for representation?  If they do, run away from this agency.  Agents earn their money by getting commissions off of jobs that are booked through their agency.  Actors work crazy hours to earn their living, they shouldn't be paying anyone to find opportunities for them.  At  Impressive Talent, we never charge our talent to be on the roster.  Our talent pay  us absolutely nothing ever.  We earn our commissions by presenting our talent to top companies who need amazing people to be a face or voice for their product.
Manager vs Agent?
Should you seek talent at a manager and not an agent?  No.  Agencies are accustomed to providing talent for multiple projects each day.  We have our decent sized roster to provide just the right talent for your needs.  A manager's job is not to host a large group of talent.  A manager personally promotes their group of small talent for individual opportunities.  Additionally anyone with a manager must pay their manager a percentage of everything the book, no matter where the job came from.  Agencies are professionals at balancing multiple opportunities for a variety of talent each day to help companies of all types hire their ideal talent.
If you are in the Baltimore/DC area and need a talent for acting or print, feel free to check out our website or email us direct for assistance.  If you are in need of a voice over talent, we have award winning talent around the world, each with their own professional home studio.